Teen Bushcraft Program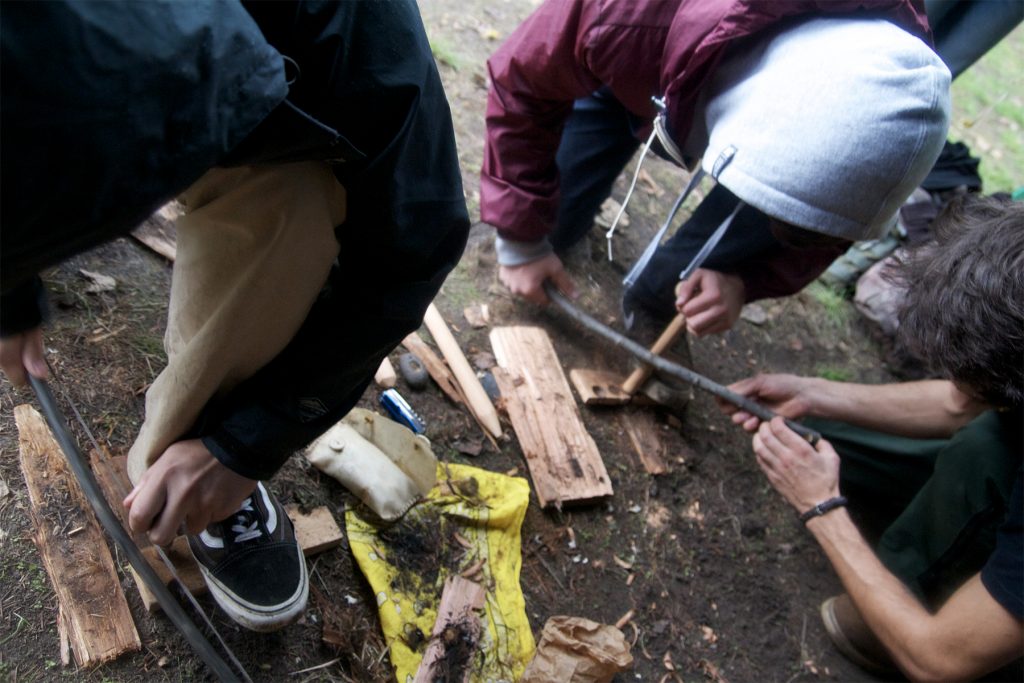 Weekly Skills Development: Thursdays, September 12th – May 21 || 9am-3pm
Campouts Skills Application (September, October, November, March, April, May)
Campout May 23-24 || Ages 11-16
Tuition: $2995/year
Various locations in and around Portland, culminating in a camp out experience in late May.
What is Bushcraft?
Boulder Outdoor Survival School defines Bushcraft as, "the skillset used to live in the wilderness using traditional and improvised tools and available natural materials."  Bushcraft differs from "survival" in terms of the context. While survival is about living long enough to be rescued, Bushcraft is about choosing to live in the wilderness for as long as your skills can sustain you.
Our Curriculum
Our Teen Bushcraft Program provides students with an opportunity to go in depth with various ancestral, outdoor, and naturalist skills. While the emphasis of our youth nature immersion is to play in nature, the emphasis for the teen level will be to internalize knowledge and develop a deeper connection with nature and place, while also fostering leadership, team dynamics, and a deeper understanding of sustainability and their role within natural systems. As rewilders we encourage ethical responsibility towards the natural world and our fellow humans and with this program, we hope to have conversations about what that looks like for our young adults. This 9 month program will culminate in a weekend camp out challenge where students can test their skills and abilities.
Our curriculum starts with a focus on the basics and moves to more advanced projects as students gain confidence and display interest in learning specific skills. Our educators are excited to share a variety of outdoor survival skills – shelter building, fire starting, outdoor preparedness, nature-based crafts such as basketry, fiber crafts, and natural dyes. Naturalist skills such as sit spots, journaling, bird language and sensory awareness exercises.
---
Instructors
Ivy Stovall
Ivy Stovall delights in the abundance, patterns, and chaos of the natural world and of humanity. So it makes sense that three years into a Biology degree, she flipped majors and earned a BA in Interdisciplinary Humanities at the University of West Florida. Her broad education prepared her perfectly for her work in outdoor education, which she began as a 4H camp naturalist, teaching outdoor skills and elementary and middle school science curriculum in the field. Since then she has taught high and low ropes challenge courses, ESL at all grade levels, and developed a North Portland homeschool co-op and independent art, adventure, and theater camps for kids in her community. These days she lives and works at The MudHut Kulturhaus, her St. Johns urban permaculture homestead, where she shares her enthusiasm for outdoor living and hosts camps, workshops, skillshares, music and theater, women's groups, and community celebrations and ritual. She likes to always be harvesting and keeps her hands busy making herbal medicines, homebrews and fermentations, botanical inks, dyes and pigments, wild foods, basketry, and natural building. Always a student and always a teacher, Ivy enjoys contributing to and learning from the passionate people of the Rewild Portland community. Many Rewild kids have learned fire and knife skills around The MudHut fire pit and know Ivy as the Echoes in Time kids' camp coordinator. Ivy loves the creativity, curiosity, and wildness of young people and is dedicated to the work of building healthy intergenerational communities connected to and through the natural world.
Johnny Spathas
Johnny Spathas has worked with Rewild Portland for many years in various capacities from instructor at our Day of Rewilding program to the head of the kitchen at Echoes in Time. Originally from the Portland area, Johnny grew up camping and spending lots of time in nature. He is an amazing teacher and a skilled outdoorsman. He has been a substitute for Nature Immersion and this is his first year as a full-time Nature Immersion instructor.
Applications for 2019-2020 are closed. Fill out this application to be notified in May for the 2020-2021 year. Thank you.