"English Ivy is an invasive, introduced plant species which damages our forests by reducing biodiversity and negatively impacting native wildlife. It is fabulous to see this weed removed from our natural areas and transformed into a productive, creative item!"

Rachel Felice, Westside Stewardship Coordinator, Portland Parks and Recreation
"In my eleven years of teaching basketry to ninth grade students I was always searching for a way to use living materials that were familiar to them. Peter is a pioneer in the use of English Ivy as a basketry material. The students performed community service while doing Ivy removal from Forest Park thus harvesting the very material they would use to create their baskets in class. Peter brought a rich experience to my students, he is a colorful personality and wonderful guest teacher."

Katherine Pomeroy, Handcrafts Teacher at the Portland Waldorf School
We Weave with Invasive Species
English Ivy Basket-making is one of our signature programs here at Rewild Portland. At our workshops you will learn to weave a simple basket out of the invasive species Hedera helix, otherwise known as English Ivy. We also sometimes weave with Scotch Broom, Himalayan Blackberry, English Holly, Yellow Flag Iris, and others. Restore and maintain the native habitat of our city parks and adjacent private lands by removing the ivy (and other invasives) and then recycling the cast off plant matter into a functional work of art.
Most environmentalists consider English Ivy the bane of ecological preservation and restoration. Brought to North America long ago by the invasive culture of the English, it has lived in the Willamette Valley and various places around North America ever since. At this point it has naturalized itself so deeply in the landscape that most people have realized that the battle to completely remove it is hopeless, and now all we can do is manage it through continuous removal done by volunteer efforts.
By giving people multiple reasons to pull ivy (restoring ecology and do-it-yourself crafts like weaving a stylish, artsy bicycle basket for your trip to the organic grocery store) they are more likely to actually get out and help the removal and maintenance of this plant. Perhaps people will stop putting their hate into a plant and learn to respect it for the gifts that it has to offer us.
---
Basketmaking as a Holistic Craft
There is a distinction made between "basket weaving" and "basket making." Basketweaving is the knowledge and craft of how to twist materials together into a container. This knowledge doesn't necessarily include the knowledge of harvesting and preparing the materials prior to weaving. Basketmaking is the holistic process, going from a plant in the wilds to the finished basket at home. This requires knowledge of specific plant species growth, and an ecological awareness of how to harvest. It also includes knowledge of prepping and processing materials. Whereas, basket weavers assemble material that has been provided, the basketmaker goes into the wild, harvests the material, processes it, and then weaves it. Our classes emphasize basketmaking, as we want people to experience "where their material comes from" as a way of connecting people to their place. In contemporary times, most basket materials are imported and weavers were never part of the growing process. In the first part of classes we will learn how to gather the plants, how to prevent them from growing back, and how to process the materials to make them ready for weaving baskets. The second part of class focuses on weaving the baskets.
---
We Teach Basketmaking As a Mindfulness Practice
To us, weaving is more than just the hands constructing a useful container. It is a practice of mindfulness. This means that through basketmaking we teach patience, breathing, mind & body awareness, gratitude, and to have a quiet, thoughtful, careful and caring mind. Basketmaking requires people to slow down and be purposeful, and methodical about their movements. Through hand/body coordination in the outdoors, with a natural material, we connect people to plants and place. Our students should be prepared and excited to learn basketmaking this way.
---
COVID-19 Considerations:
• We limit class size to be under 10 people (this includes instructors)
• All participants (students and instructors) must wear face masks
• All classes take place outside (consider weather and proper clothing for fall/winter)
• Classes may be cancelled due to up-dated restrictions. Refunds will be given if we have to cancel. Refunds are given up to two weeks before the event if a student has to cancel for any reason. We cannot give refunds after the two week mark unless the organization has to cancel.
Current Offerings
---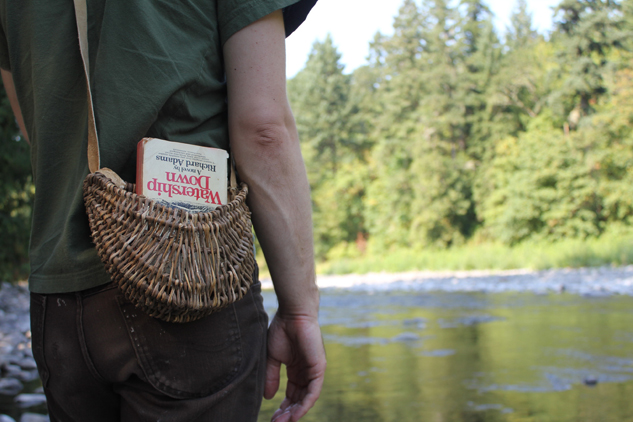 Holly & Ivy Ribbed Basket
Also known as a "creel" or "fishing" basket. This ribbed basket is great for carrying small things like a cell phone, wallet, binoculars. Weave an awesome bike basket or turn it into a fanny pack that attaches to your belt. Larger baskets of this style make great backpacks during the dry season, or even bicycle panniers.
Date: Saturday & Sunday November 6 & 7, 2021 || 10am to 4pm
Location: Portland, OR
Tuition: $195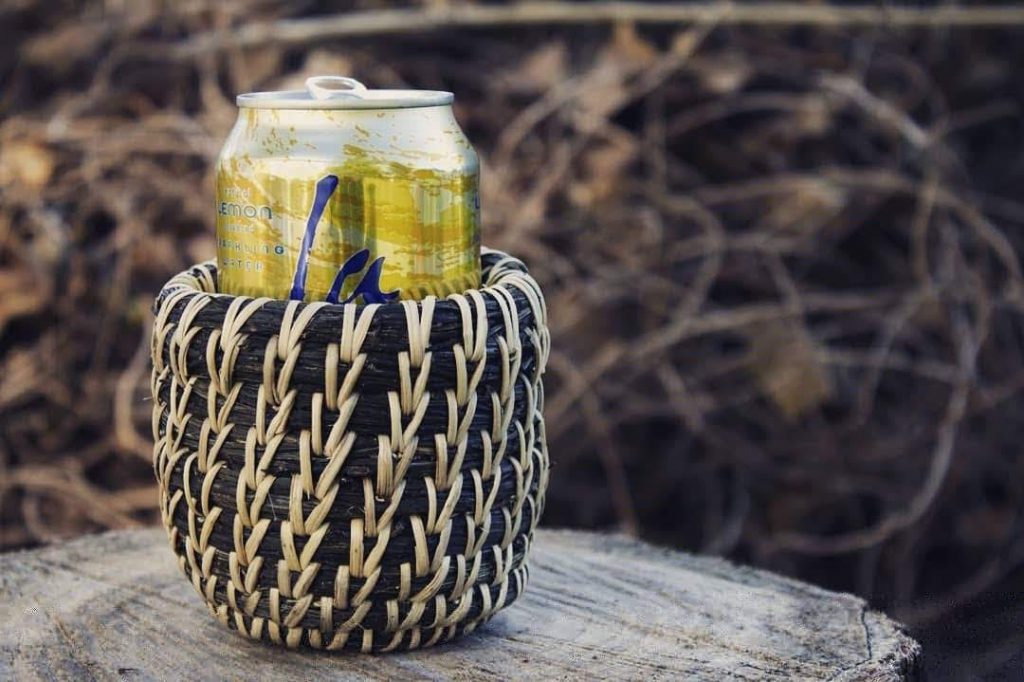 Ivy & Scotch Broom Coil Basket
This basket is fun and relatively easy to make. Coiling can feel more like sewing than weaving, as pieces are wrapped together in a completely different fashion from twining or regular weaving. It also requires a lot less material to be gathered. Depending on availability and access, we will gather and use Scotch broom as the "foundation" and peeled, split English Ivy roots at the "stitch" material. This combination of materials presents a beautiful, aesthetically pleasing contrast of color, with dark greens emanating from the coil, wrapped in light colored bands.
IN PERSON:
Date: Saturday & Sunday November 20 & 21, 2021 || 10am to 4pm
Location: Portland, OR
Tuition: $195
ONLINE:
Date: December 18 & 19, 2021 || 1oam to 4pm (Pacific)
Location: Zoom
Tuition: $195
Students will need to gather materials before class begins in whatever region they live. Instructions will be sent out in advance.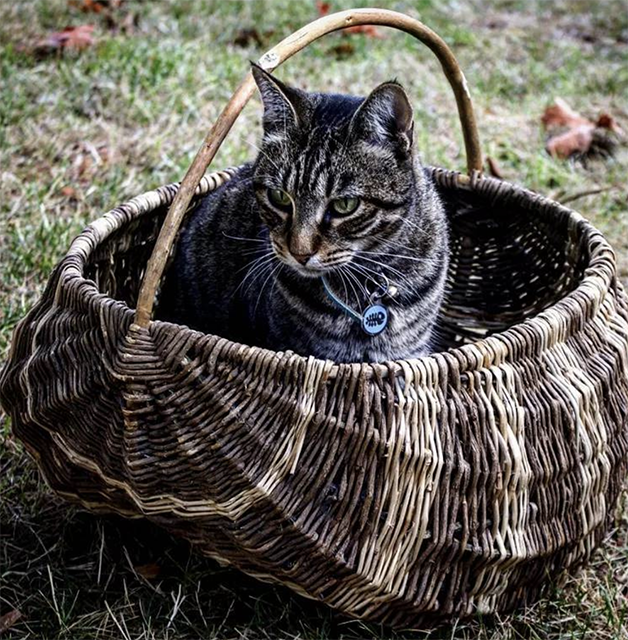 English Ivy Gathering Basket
This basket is great for foraging either wild foods in the forest or down at the local farmer's market. A beginner's basket, this one is easy to learn and weave. Cat's love them.
Date: Saturday & Sunday December 4 & 5, 2021 || 10am to 4pm
Location: Portland OR
Tuition: $195
---
Private Groups & Custom Classes
If you would like to request us to come teach English Ivy Baskets at your school or with your club, send us a message: