The Rewild Portland Nursery
We are raising funds to purchase a greenhouse for our nursery
---
Help Us Reach Our Goal
Spring Plant Sale!
April 17th & 18th, 2021 || 11am – 4pm || Green Anchors
8940 N Bradford St, Portland, OR 97203
This is our first plant sale. Our plant focus is natives, perennial foods, craft & dye plants, pollinators. Our nursery grows plants for restoration, local food resilience, and carbon sequestration. This plant sale funds the growth of plants for many other projects and partners. We will be doing some craft demonstrations and giving garden tours of Green Anchors as well. Face masks are required. Parking is in the neighborhood near Cathedral Park. Cars can drive in after purchasing for loading only.
Demonstration Schedule:
Saturday: Nålebinding (w/ Kaitlyn Mays), flint-knapping (w/ Tony Deland), Flax fiber (w/ Mellissa Berry)
Sunday: Cordage making (w/ Chloe Hight), friction fire (w/ Erica Savadow-Pope), Flax fiber (w/ Mellissa Berry)
A plant list can be viewed here:
Here is a map for how to find us: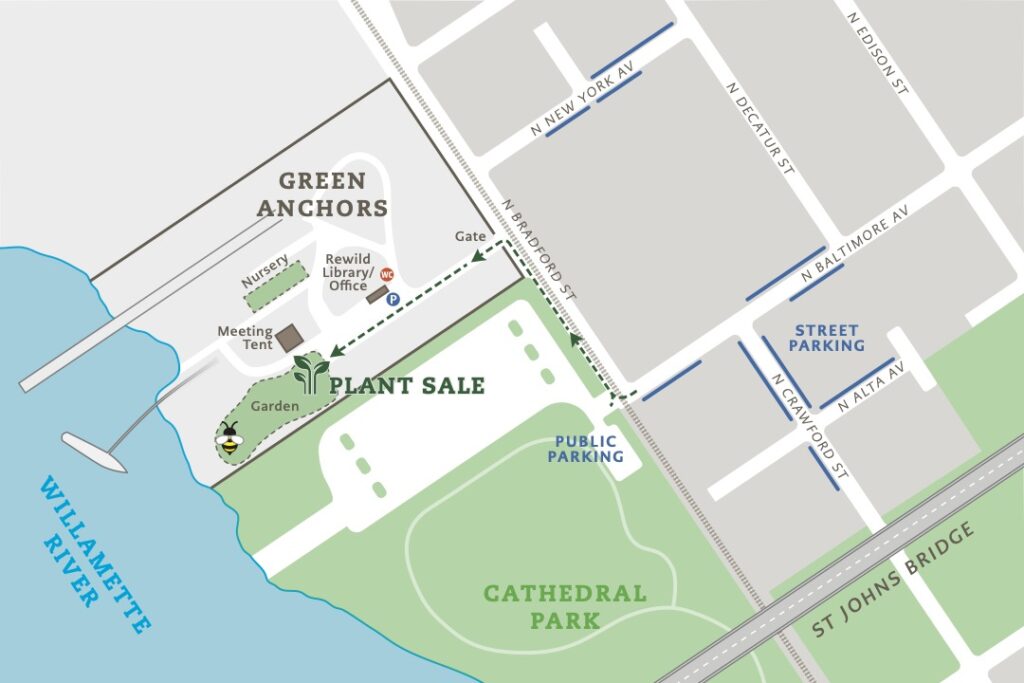 Why?
Rewild Portland has always focused on teaching resilience through skill building in natural crafts and wild foods. Throughout that time we have been incorporating the restoration of ecosystems and local food sovereignty into our programming. We need to be able to give back more, create more life, more wildness. Our nursery takes us to the next level, above and beyond just teaching crafts with natural materials–to growing those materials and restoring landscapes that formerly grew them.
Where?
Our Nursery is located at Green Anchors, an eco-industrial park nestled alongside Cathedral Park and the Willamette River in the St. Johns neighborhood. A former shipyard and Superfund site, it now houses many small green businesses working to create a sustainable future. More than just our nursery, it is the home of the Rewild Portland library and we host many our or programs there.
Who?
Rewild Portland works with many stakeholders and community partners who benefit directly from our management of our nursery. Opportunities abound—from growing native and edible plants to give away at our monthly Free Skills Series, which is free and open to the public, to growing plants directly for organizations who share a vision with us, to offering plant sales to the people who live in the neighborhood. Among past and present partners we work to benefit are Portland Fruit Tree Project, Native American Youth and Family Center, Friends of the Ridgefield Wildlife Refuge, Confederated Tribes of Grand Ronde, Green Anchors (for onsite restoration), and many others.
Volunteer at our Nursery
Volunteers help us to grow plants for a resilient future. Get outside, get your hands in the dirt, get moving. Gardening is a proven method for reducing anxiety and building community. Feel like you need to get outside and connect with others and with nature, but in a safer setting? Masks are required for work in the nursery, and we limit our group size to 8 people. Sign up today:
---
Wish List
If you can't donate money, consider donating some of the resources on our wish list! If you can donate any of these items, please send us an e-mail.
Priority:
• Sign up to volunteer at the nursery! (See below)
• Organic potting soil
• Potting soil, 12 bags
• Seedling soil, 3 bags
• Sand, 6 bags
• Gloves, mix of adult sizes, 10 pairs
• Kids' gloves, 20 pairs
• Heat mat for under seedling trays, 4
• Heat tape or soil-heating cable, 24 feet
• Fertilizers
• Blood meal
• Bone meal
• Fish fertilizer or kelp fertilizer
• Seeds for PNW native or medicinal plants
Secondary:
• Folding saw, 2
• Hand tools
• Trowel
• Hand pruner
• Soaker hose, 50 feet
• Hula hoe
• Orchard ladder
• Pole picker, 2
• Kids' garden tools
• Trowels
• Shovels
• Rakes
• Brooms
---
Subscribe to Our Newsletter
Pay for Plants
If you have coordinated with Ivy and need to make a plant purchase from the nursery, please click the button and fill out the pricing.