Our Board and Staff
---
Board of Directors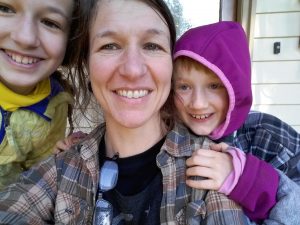 Mindy Fitch (she/her) grew up in the Puget Sound area, Salish territory, Washington State. She holds a BA in Creative Writing from Western Washington University and studied filmmaking at Vancouver Film School in British Columbia. Shortly after moving to Portland in 1997, Mindy began editing books (mostly plant and natural history titles) at Timber Press, where she remained on staff until becoming a mom in 2006. Now she edits on a freelance basis, homeschools her two children, and works on various nature connection advocacy projects. Mindy is Rewild Portland's resident editor.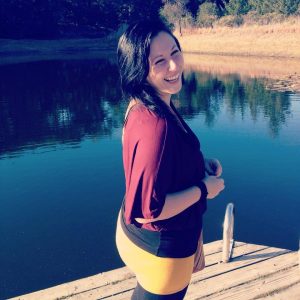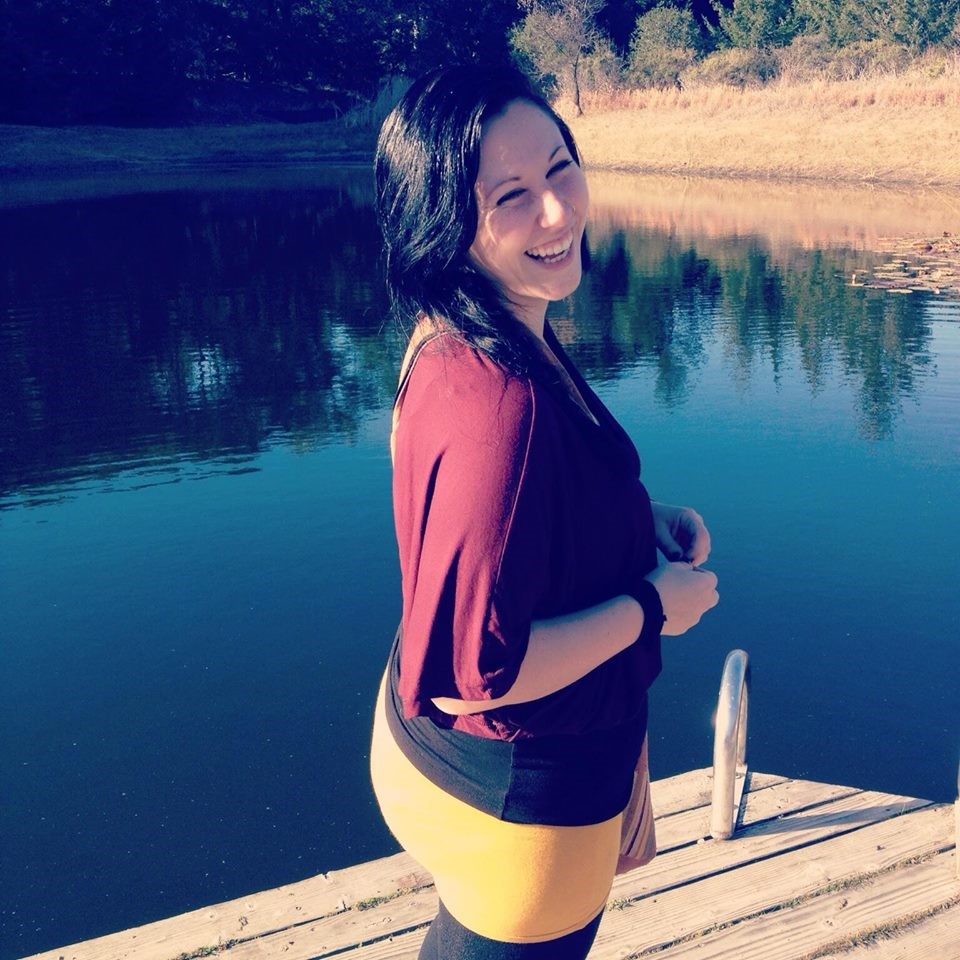 Sheila Henson (she/her/they/them) grew up in Southern California and fled to Oregon in search of rain and trees. Always fascinated by why folks do what they do and whether or not it is a good idea, she spent twelve years as a behavioral respite worker and ABA therapist for children with special needs before deciding on a mild career change. After working with film, art, and animal rehabilitation, she settled on teaching. Armed with a BA in History and an MA in Education, she now works as a therapeutic middle school teacher at Serendipity Center. "Community" has always been Sheila's favorite word, seeming to her as necessary as eating or breathing. Community to her encompasses everything from her friends and family, to her adorable pet dog and the squirrels he wants to chase, to the plants in her region, to the bacteria in her gut. The drive to understand how to be kind, collaborative, and restorative within our social and ecological communities led her to Rewild Portland (well, that and the raccoon mascot). Sheila serves as our volunteer coordinator. She also likes to muddy her paws with programs she feels connected to, such as the incredible Young Women's Nature Skills Program.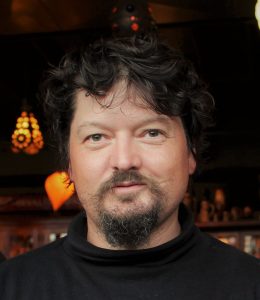 Willem Larsen (he/him) started out as director of the Insect Zoo exhibit at the Oregon Zoo, then moved to being an outdoor education camp counselor and director, in his urge to reconnect himself, children, and families to the land. Due to his search to learn more about the ecology of his bioregion, he studied local indigenous languages, and this triggered his work to help revitalize endangered languages through the nonprofit Language Hunters, which he founded on the principles of community accelerated learning. Most of these accelerated learning principles were a direct inheritance from nature awareness mentors and teachers of his—trackers Tom Brown and Jon Young, village educator and author Martín Prechtel, Mohawk sub-Chief (Wolf Clan) Jake Tekaronianekan Swamp, and others. This focus on accelerated learning brought him into the world of Agile Software Development, where he has been an invited speaker at conferences on the subjects of accelerated learning and learning game design since 2009. He cowrote the book The Five Rules of Learning with Diana Larsen and authored The Language Hunter's Kit and The College of Mythic Cartography. Also due to his passion for systems thinking as it relates to communal learning and vitality, he has become the host of the Thermodynamics of Emotion Symposium, a yearly conference for sharing the application of cutting-edge physics (via the Constructal Law) to human behavior and natural systems (via Immediate Moment Theory). Willem is also a Search and Rescue Tracker and creator of the "Forensic Flow Analysis" YouTube video series on applying complex flow system theory to tracking for forensic purposes.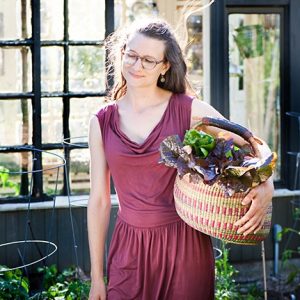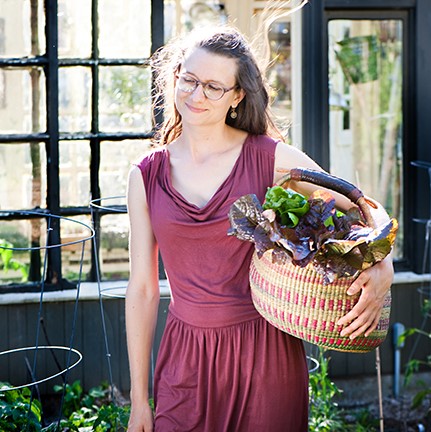 Mulysa Melco (she/her) is a landscape designer and horticulturist in Portland. Through Resilience Design, her sustainable landscape design and consultation studio, she facilitates urban and rural site design and ecological restoration projects. These "homesteads and habitats" are multifunctional spaces that aim to foster reconnection between people and ecosystems. She teaches workshops on botany, permaculture, and ecological living skills. Mulysa has a BFA from the Minneapolis College of Art and Design and a Master of Agriculture in Horticulture degree (focusing on landscape design and garden history) from the University of Minnesota–Twin Cities. She interned at the Royal Botanic Gardens Kew in England. In 2014 Mulysa spoke at the National Pesticide Forum about her neighborhood's campaign to become a pesticide-free zone.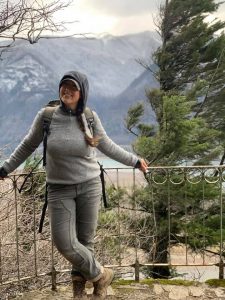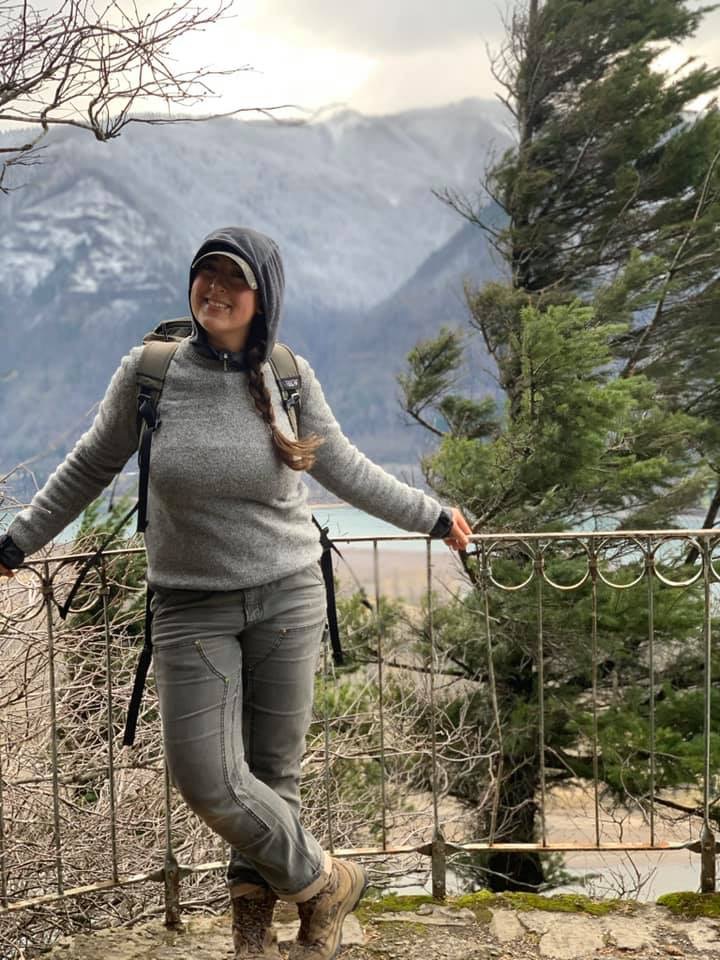 Erica Savadow-Pope (she/her/they/them) grew up on the East Coast, roaming the sparse woods around her suburban development in Maryland. She moved to New York City for a few years, feeling pretty aimless and disconnected, then moved to Portland in 2008. She's always had an appreciation for nature and cared not a lick for the trappings of "normal" youthful suburbanhood. It wasn't until Erica settled into the Pacific Northwest that she finally understood what had been missing in her life. Her feelers had been out, but with no ideas on what they were grasping for. Here, she grew roots and didn't feel so alien for her lack of attraction to the world of materialism and glamor. To pay the bills, she does bookkeeping and administrative work. To live, she has learned to spin her own cordage and wield a knife, start a fire with ferro and friction, weave baskets, build a relationship with local plants, and feel inspired by the brilliant ingenuity of others embracing a relationship with the wild. She feels beautiful when she wakes up under the sky, washes her face in a cold creek, and spends her days with dirt-y hands.
---
Executive Director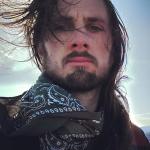 Peter Michael Bauer (he/him) is our Executive Director and an instructor for various programs. A fourth-generation Portlander, his first merit badge in the Boy Scouts was basketry. From there he went on to receive his Eagle Scout rank. He has followed a path of non-traditional education. From the age of 16 he has traveled the country attending programs such as Tom Brown Jr.'s Tracker School, Wilderness Awareness School in Washington State, Rabbitstick Rendezvous, Echoes in Time, Wintercount, Lynx Vilden's Stone Age immersion program, and the Columbia Basin Basketry Guild (where he currently sits on the Board of Directors). He has been an environmental educator for many organizations in Portland, including Cascadia Wild, Friends of Tryon Creek, and the Audubon Society. Prior to becoming the full time executive director of Rewild Portland, he worked in the film industry as a production coordinator for several years. In his spare time he weaves baskets, practices the banjo, and translates Chinookan Myths into Chinuk Wawa at the Confederated Tribes of Grand Ronde Portland office. He is the founder of rewild.com and author of Rewild or Die (under the moniker Urban Scout).
---
Youth Program Director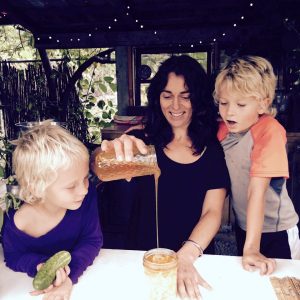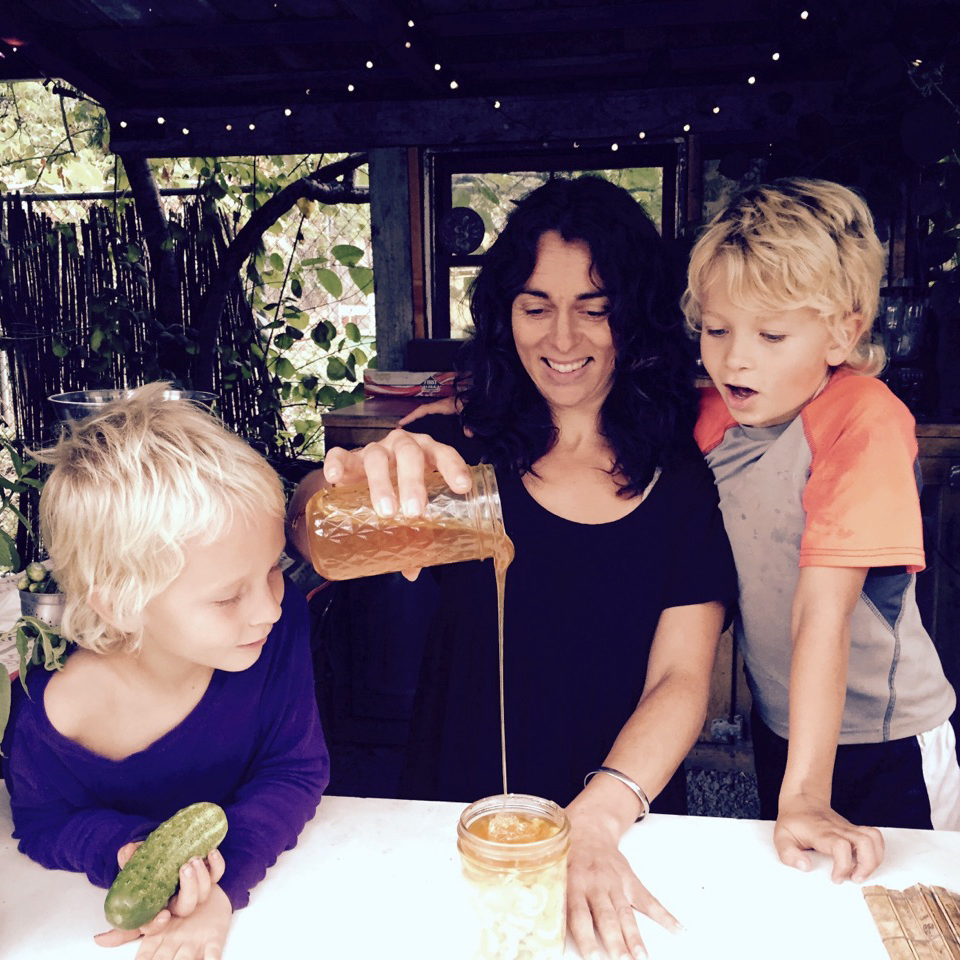 Ivy Stovall (she/her) delights in the abundance, patterns, and chaos of the natural world and of humanity. So it makes sense that three years into a Biology degree, she flipped majors and earned a BA in Interdisciplinary Humanities at the University of West Florida. Her broad education prepared her perfectly for her work in outdoor education, which she began as a 4H camp naturalist, teaching outdoor skills and elementary and middle school science curriculum in the field. Since then she has taught high and low ropes challenge courses, ESL at all grade levels, and developed a North Portland homeschool co-op and independent art, adventure, and theater camps for kids in her community. These days she lives and works at The MudHut Kulturhaus, her St. Johns urban permaculture homestead, where she shares her enthusiasm for outdoor living and hosts camps, workshops, skillshares, music and theater, women's groups, and community celebrations and ritual. She likes to always be harvesting and keeps her hands busy making herbal medicines, homebrews and fermentations, botanical inks, dyes and pigments, wild foods, basketry, and natural building. Always a student and always a teacher, Ivy enjoys contributing to and learning from the passionate people of the Rewild Portland community. Many Rewild kids have learned fire and knife skills around The MudHut fire pit and know Ivy as the Echoes in Time kids' camp coordinator. Ivy loves the creativity, curiosity, and wildness of young people and is dedicated to the work of building healthy intergenerational communities connected to and through the natural world.
Staff Instructors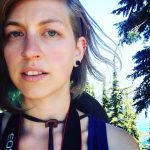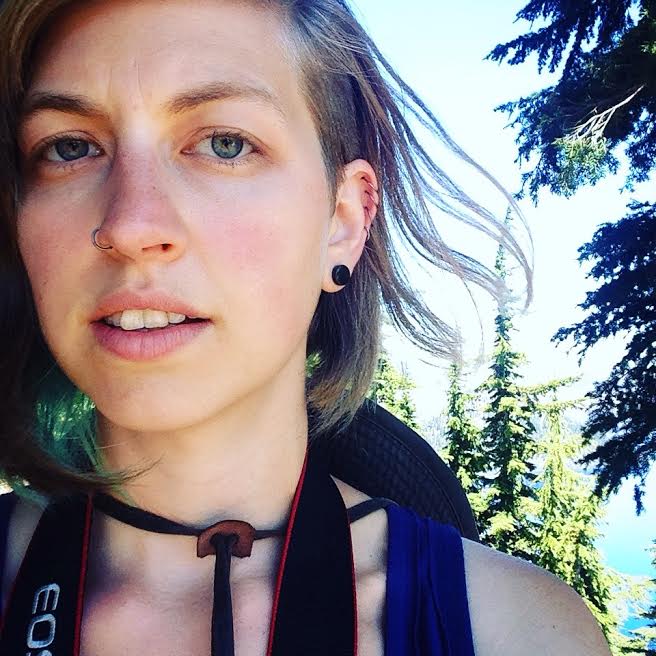 Kara Daniel (she/her) was born and raised in Michigan where she spent much of her childhood exploring wooded trails and rock hunting on beaches of the Great Lakes with her family. In her late teens she began thinking critically about Western culture as she became involved in social justice and environmental activism. She changed college majors several times as her two passions (art and science) pulled her in different directions. Her connection with plants and love of the outdoors finally led her to pursue a BS in Natural Resource Management. After college, she began teaching at outdoor education camps and loved the energy and enthusiasm involved in working with kids. She taught and explored with children as young as four years old as well as teenagers and young adults at camps and nature centers in North Carolina, New York, California, and Wisconsin before landing in Oregon, where she discovered the diverse ecosystems and amazing rewilding community she had been searching for. Kara has since found a way to combine her interests of art and nature by crafting from natural materials and finding inspiration in the natural world. She loves fiber crafts of all sorts—felting, dyeing, spinning, knitting—and has more recently begun to explore basket weaving. She continues to learn about plants and the natural world while studying permaculture design and herbal medicine.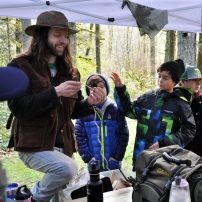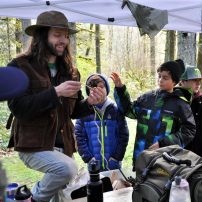 Johnny Spathas has worked with Rewild Portland for many years in various capacities, from instructor at our Day of Rewilding program to the head of the kitchen at Echoes in Time. Originally from the Portland area, Johnny grew up camping and spending lots of time in nature. He is an amazing teacher and a skilled outdoorsman. He has been a substitute for Nature Immersion and this is his first year as a full-time Nature Immersion instructor.
---
Guest Instructors
In addition to our core staff, we work with a large group of educators. Here are some of the instructors we work with: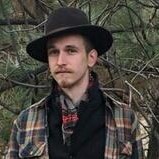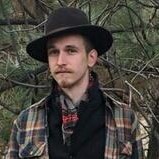 Jesse Ambrose grew up in Pennsylvania and moved to Portland to study Digital Film and Video at the Art Institute. His collaboration with Rewild Portland began in 2010 when he was invited on board as media intern. Working with Rewild introduced Jesse to the world of outdoor education and wilderness survival skills. Since that time he has involved himself in various land-tending projects, and studied social forestry (with topics ranging from prescribed burns to gender, forest systems, timber stand assessment, and transition horticulture) through Hazel's Siskiyou Permaculture course. In addition to Rewild Portland, Jesse has worked for Village Video and Trackers Northwest. He is a regular staff member at Rewild's children's camps and co-teaches hide camp at Echoes in Time.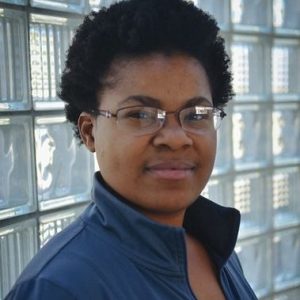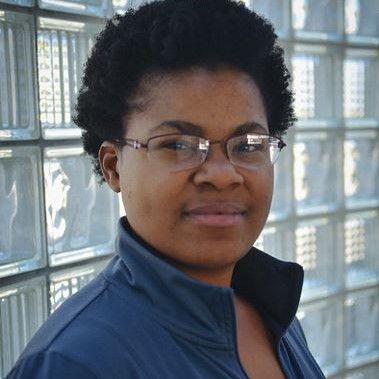 Porsha Beed is an intimate activist and mentor who specializes in teaching young people and adults about the importance of deep human connection, holistic resistance, and the importance of self-love and resiliency. She is passionate about dismantling racism and oppression. As an earth builder and integrator of race, she strives to build a lifelong community to end racism. Her love for the Earth and for intentional community is the nest in which Porsha has chosen to fight systems of oppression.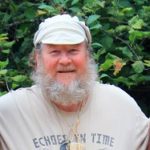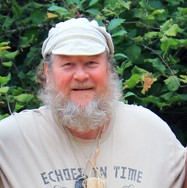 Dale Coleman, also known as Blond Bear, is an ancestral skills enthusiast and a co-founder of Echoes in Time, Oregon's oldest ancestral skills gathering, which meets annually for a week of workshops on hide tanning, basketry, herbal medicine, and more in Oregon's Willamette Valley. Though still an active part of Echoes, Dale recently retired from his management role in the event, which is now a program of Rewild Portland. He is co-owner of Belgian Underground Beers in Silverton, Oregon.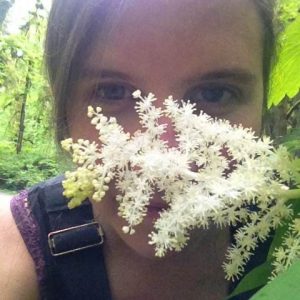 Guided by the wisdom of the natural world and ancestral knowledge, Kate Coulton has forged an inspired career as a medicine maker, plant cultivator, educator, and artisan. The founder of Pinion Botanicals, Kate is driven by a reverence for the creative and therapeutic potential of all living organisms. Through collaborative projects that involve natural fiber dyeing, herbal remedy crafting, and personal empowerment, she encourages thoughtful interaction with the abundant flora of the Pacific Northwest. Her background in cultural anthropology instilled a deep respect for medical pluralism and influenced her current journey of becoming a certified nursing assistant. Gratitude and accessibility are at the core of her practice.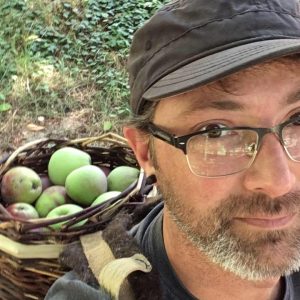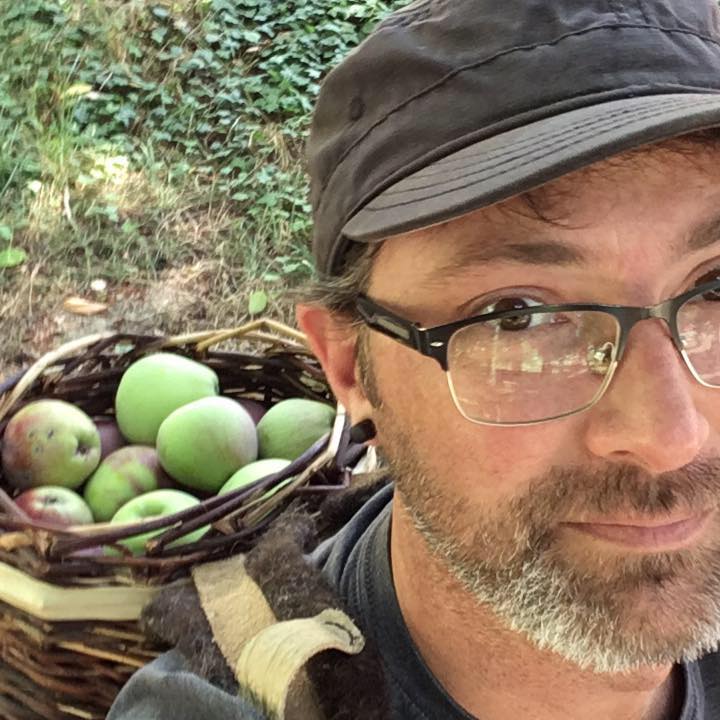 Tony Deland teaches bow-making, ceramics, and other ancestral skills. He has a Masters in Art Education and served as a Peace Corps Volunteer in Kenya from 2005 to 2007. While in Kenya he began to learn many ancestral skills in real-world practice and participated in building a mud brick and cob home as well as learning the traditional way of making ceramic cooking pots. Since that experience, Tony has been extremely passionate about traditional and ancestral skills. He has been an instructor at Echoes in Time, Buckeye Gathering in California, and The Sharpening Stone in southern Oregon. He has also taught at Trackers Northwest as their lead instructor for adult and teen programs. His experience as an art teacher helps him to simplify these skills and make them accessible to people who may not have any experience with them. Tony currently teaches visual arts at Jefferson High School in NE Portland.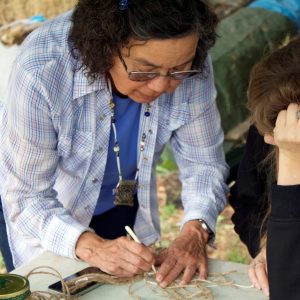 Pat Courtney Gold is a Wasco Chinook Native who was born and raised on the Warm Springs reservation. She is a teacher, lecturer, consultant, and artist who creates replicas and modern pieces for museums. She is known for her efforts to revive the Wasco "full-turn twine" weaving technique that the weaver uses to create the classic Chinookan geometric images. Pat keeps this tradition alive by teaching classes throughout the Northwest and on the reservation where she grew up.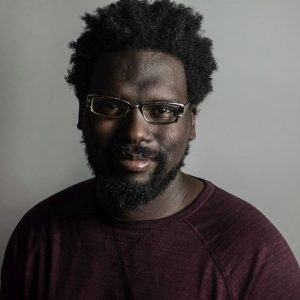 Aaron Johnson (he/him) is an earth builder, teacher of closeness, and activist. He graduated from the California Institute of the Arts in 2007 with a Bachelor of Fine Arts. He has made a lifelong commitment to use the skills he possesses to end racism. In addition to using intimacy and closeness to blackness as a primary means to that end, the tools he frequently uses are speaking, teaching, singing, photography, filmmaking, and minimalism. Aaron leads a mentoring program called Turn It Up Now that focuses on elevating the power, talent, love, and work ethic of youth. He believes that deep connection is one of the most powerful tools one can use in dismantling racism. His goal is to help white people slow down their reality enough to see blackness, primarily through the use of deep questions. He also uses questions as a lens that white people can use to look at themselves and see how their own wounds and trauma from racism are stopping them from being close to black people. Aaron is a firm believer that if you cannot get close to black people, you cannot be a true advocate for them. Being close to blackness is the revolution.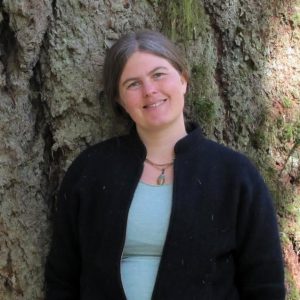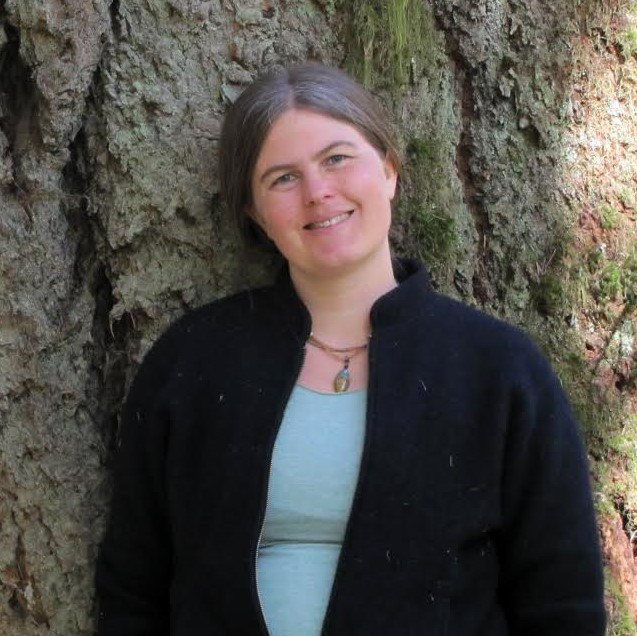 Tao Orion is the author of Beyond the War on Invasive Species: A Permaculture Approach to Ecosystem Restoration. She teaches permaculture design at Oregon State University and at Aprovecho, a forty-acre nonprofit sustainable-living educational organization. Tao consults on holistic farm, forest, and restoration planning through Resilience Permaculture Design, LLC. She holds a degree in Agroecology and Sustainable Agriculture from UC Santa Cruz, and grows organic fruits, vegetables, seeds, nuts, and animals on her southern Willamette Valley homestead, Viriditas Farm.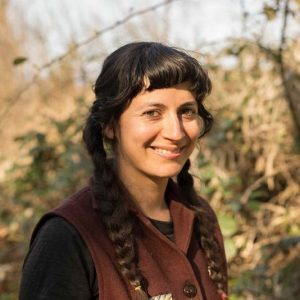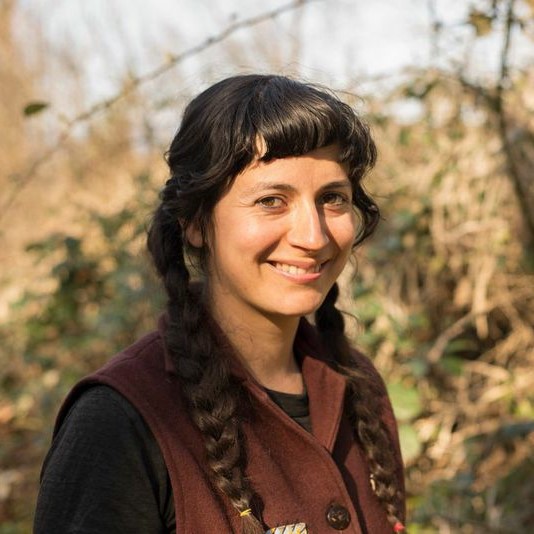 Lara Pacheco (she/her/they/them) is a clinical herbalist who founded Seed and Thistle Apothecary, which offers a monthly herbal subscription of seasonally based herbal preparations from plants she grows and ethically wildcrafts. Within this model, she also offers consultations and customized options where individuals are matched with specific plant medicine to help support their health. Lara is a Latina community organizer and teaches classes, builds gardens, and advocacy around women's health and access to alternative medicine for the underserved. Lara learned from the plants originally in the farm and field, then pursued further studies in the Pacific Northwest with the School of Traditional Western Herbalism, and worked with Scott Kloos for his one-time offering of the Cascadia Folk Medicine Herbal Apprenticeship.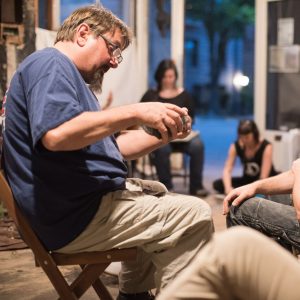 Tom Prang (he/him) has a passion for lifelong learning with a focus in natural and cultural history. His academic backgrounds in education and archaeology have taken him from the Arctic to Arizona over the years. He has been fortunate to live as a subsistence hunter-gatherer, and strives to share these diverse experiences with the hope of working toward a greater understanding of, and harmony with, our society and environment.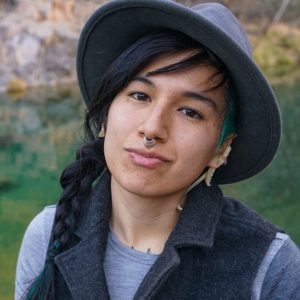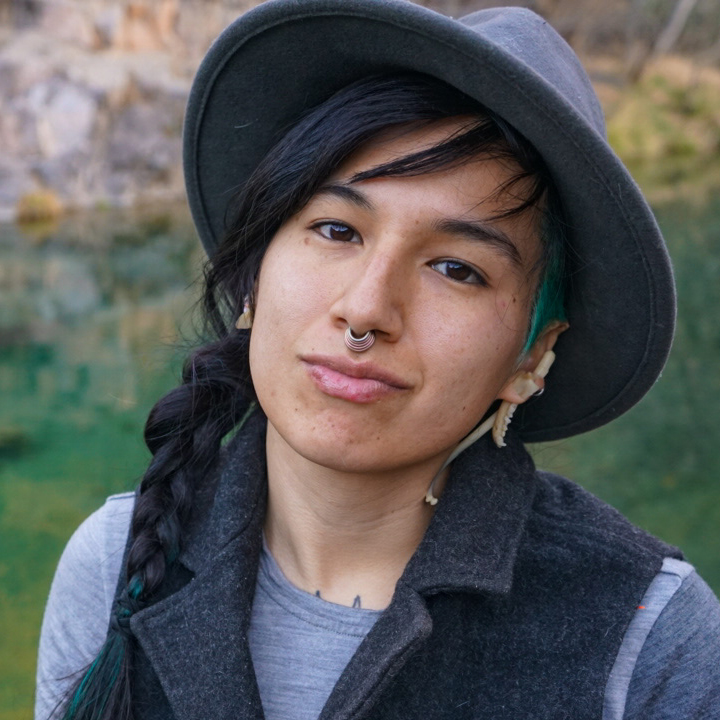 Pınar Ateş Sinopoulos-Lloyd (they/them/theirs) has always been allured by how the natural world mirrors one's internal landscape. Enchanted by the liminal, Pınar is a nonbinary QTPOC (Queer & Trans Person of Color) with Huanca, Turkish, and Chinese lineages. They, along with their spouse, So, co-founded Queer Nature, a project bringing earth-based queer community through ancestral skills, nature connection, and vision fast guiding. In addition to offering LGBTQ2+ specific programming, Pınar is a consultant, presenter, and speaker at universities and conferences, program designer and facilitator in collaboration with nonprofits, and a canoe guide. As an indigenous queer outdoor leader, their inspiration is envisioning decolonially informed queer futurism through interspecies accountability and remediating the myth of human exceptionalism. As a survival skills instructor, one of their core missions is to uplift and amplify the brilliant "survival skills" that BIPOC, LGBTQ2+, and other intersectional oppressed populations already have in their resilient bodies and stories of survivance. Their relationship with queerness, neurodivergence, indigeneity, and belonging guided their work in developing Queer Ecopsychology through studies at Prescott College, Wilderness Awareness School, School of Lost Borders, Animas Valley Institute, Naropa University, and Esalen Institute. Their undergraduate work was in applied ecopsychology with a somatic and depth approach through a decolonial and queer lens. Currently enrolled at the University of Vermont, they are working on their degree in Master of Science in Natural Resources with a Concentration in Leadership for Sustainability.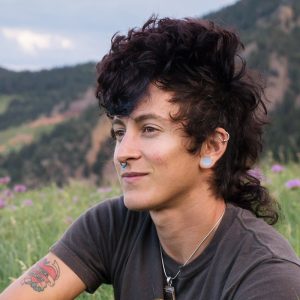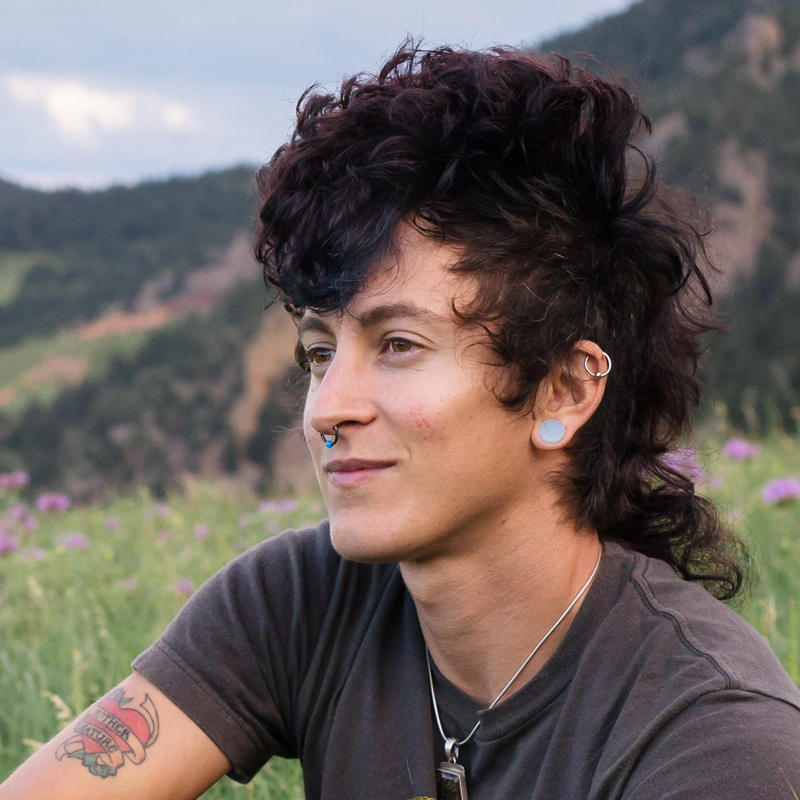 Sophia "So" Sinopoulos-Lloyd is a queer Greek-American who grew up in the northern hardwood forests of central Vermont. So's initiation to the wisdom of earth-based lifeways began when they worked as a seasonal shepherd and cheese-making assistant throughout college, and sheep began to teach them new things about belonging, awareness, and community. Inspired by the resilience and hardiness of these beings, So went on to do immersive studies in ancestral earth-based skills and natural science, and also completed an MA that focused on relationships between religion and ecology in the Eastern Mediterranean—their matrilineal lands. Much of So's work is animated by a study of how personhood and a sense of belonging are interwoven with geography and can be further informed by intimate knowledge of place through naturalist study. So stewards Queer Nature with their spouse, Pınar, which is devoted to creating empowering and accessible spaces where LGBTQ2+ and non-binary folks can learn various ancestral earth-based skills. Some things that So is most passionate about teaching and learning are so-called survival skills, wildlife tracking, and wilderness emergency medicine. So still hopes to one day be as cool and skilled as sheep are.