Coming-of-Age Program for Girls
A Mentoring Program for Female-Identifying and Nonbinary Youth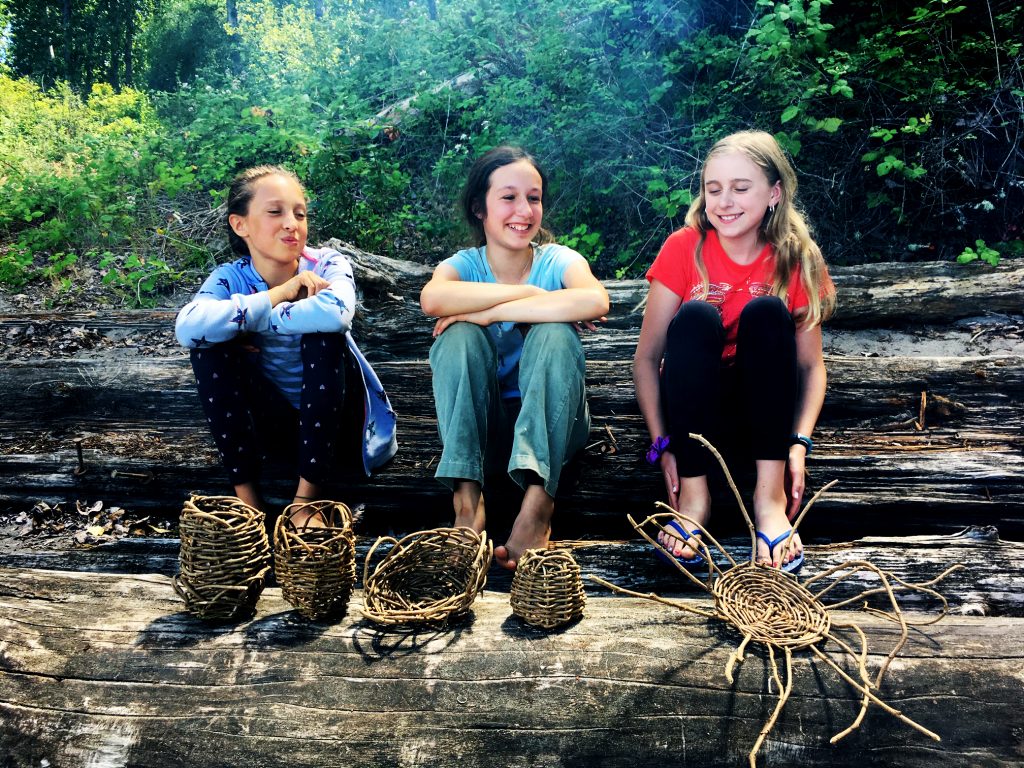 This year-long program for female-identifying and nonbinary youth ages 10–12 is designed and taught by folks in the Rewild Portland community with the intention of inspiring thoughtful young leaders who can move confidently and respectfully through nature, while also developing healthy relationships, building character, and inspiring their own curiosity. We explore nature with the minds of naturalists through art, games, crafts, and ancestral/survival skills, while also having conversations about what it means to rewild our bodies and our lives.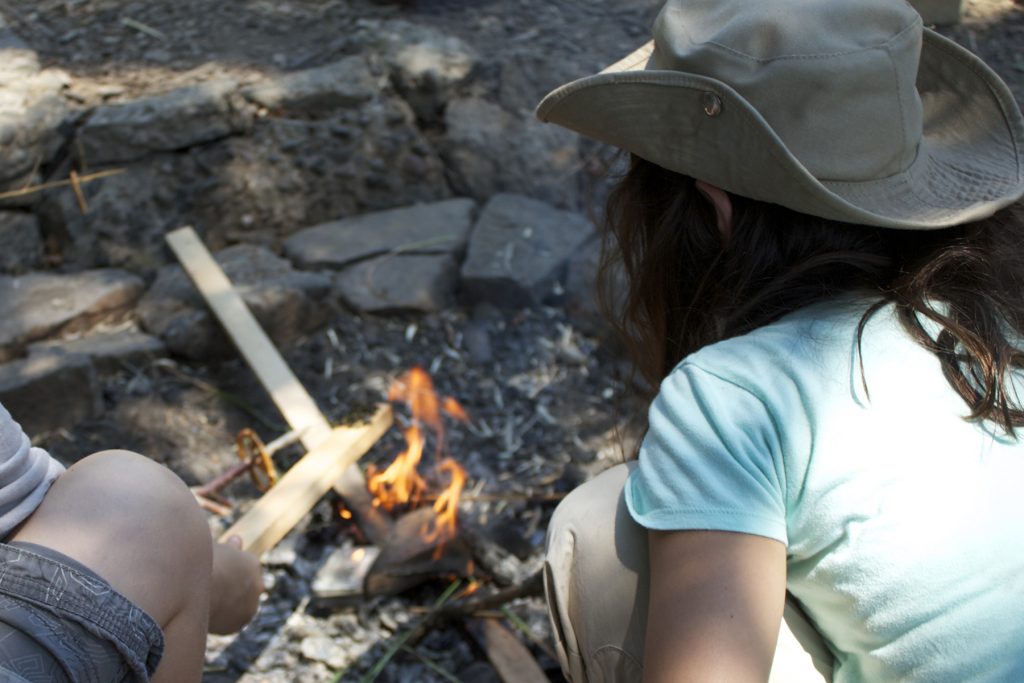 Preadolescence is a tender time of emergence, yet our culture provides little safe space for youth to develop their maturing physical, intellectual, and emotional selves, and retains few rites of passage to catalyze, acknowledge, and honor these changes. Many voices tell young people how this passage should look and feel, but who is helping them develop their own voices? How does one stay anchored in self when the ground is shifting? A healthy community gives intentional support to youth during this time. A child does not become an adult overnight. Saying goodbye to childhood is a slow walk across a long bridge, made sweeter, safer, and more powerfully transformative in the company of like-minded peers and grounded mentors.
The program will meet twice each month (a weekday evening and a weekend day) and will embark on an end-of-the-year overnight adventure. Participants will gain experience with an assortment of arts and skills like fire making, knife use and carving, weaving, cordage, felting, dyeing, leather work, edible and medicinal plant crafting, plant identification, orienteering, storytelling, bird language, tracking, and other skills of personal interest to the group. The day-long Saturday meetings will focus on seasonal themes, natural crafts, games, and naturalists skills. We invite guest mentors to join us in leading a skill, game, or project. Weekday evenings will meet at the Mud Hut, a permaculture homestead in the heart of St. Johns. Saturday locations will vary and take advantage of natural settings near the Portland Metro area.
This program is for female-identifying and nonbinary youth ages 10–12. Thirteen-year-olds who have taken part in previous years' programs will be able to participate as assistants in the program.
---

2023-24 Program Dates
• Two monthly meetings: weekday evening session (6pm–8pm) and weekend all-day session (10am–4pm)
September/October—Thursday 9/28 (Cider Social); Saturday 10/7 – Sunday 10/8 (Campout)
November—Saturday, 11/11; Thursday, 11/16
December—Thursday, 12/7; Saturday, 12/16
January—Thursday, 1/11; Saturday, 1/20
February—Thursday, 2/1; Saturday, 2/24
March—Thursday, 3/7; Saturday, 3/16
April—Thursday, 4/11 Saturday, 4/27
May—Thursday, 5/9; Saturday, 5/18
June—Saturday, 6/15 (10-6 – River Weaving)
July—Friday–Sunday, 7/19–7/21 (Campout)
Tuition
$125/month ($1250 for the ten months). Participants must make a year-long commitment to the program.
---
Staff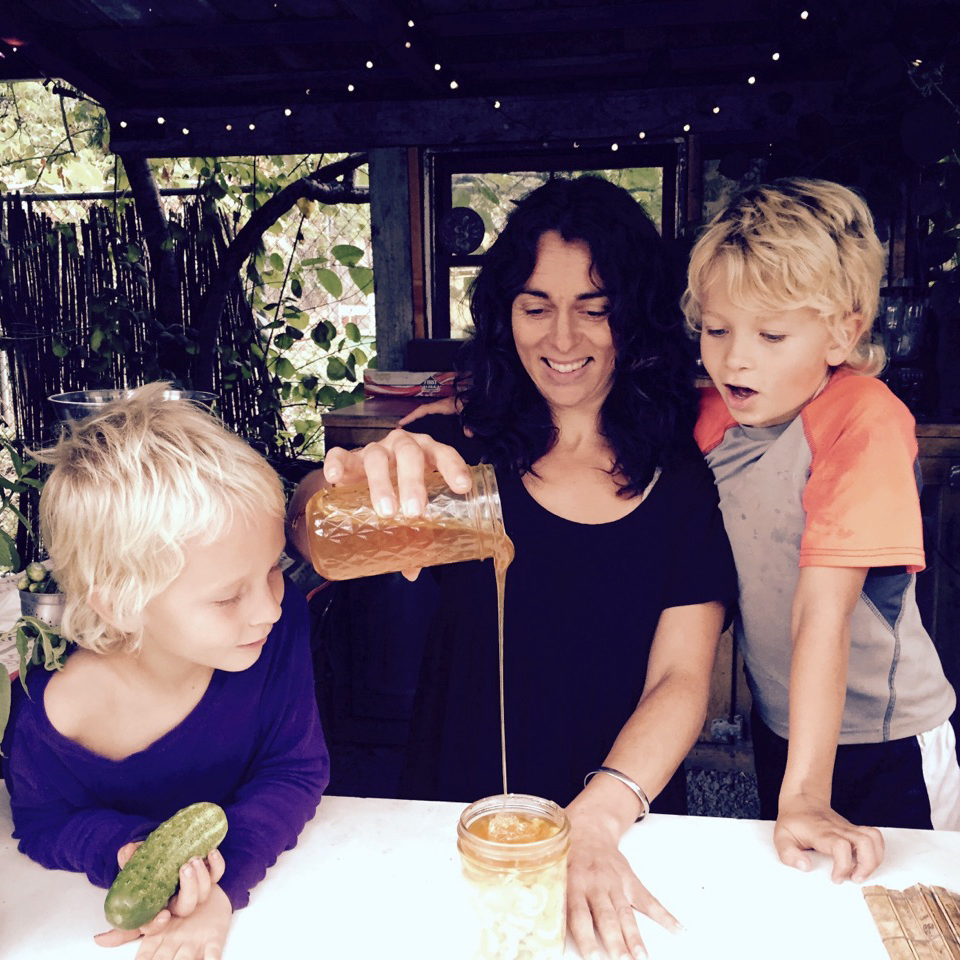 Ivy Stovall
Ivy Stovall delights in the abundance, patterns, and chaos of the natural world and of humanity. So it makes sense that three years into a Biology degree, she flipped majors and earned a BA in Interdisciplinary Humanities at the University of West Florida. Her broad education prepared her perfectly for her work in outdoor education, which she began as a 4H camp naturalist, teaching outdoor skills and elementary and middle school science curriculum in the field. Since then she has taught high and low ropes challenge courses, ESL at all grade levels, and developed a North Portland homeschool co-op and independent art, adventure, and theater camps for kids in her community. These days she lives and works at The MudHut Kulturhaus, her St. Johns urban permaculture homestead, where she shares her enthusiasm for outdoor living and hosts camps, workshops, skillshares, music and theater, women's groups, and community celebrations and ritual. She likes to always be harvesting and keeps her hands busy making herbal medicines, homebrews and fermentations, botanical inks, dyes and pigments, wild foods, basketry, and natural building. Always a student and always a teacher, Ivy enjoys contributing to and learning from the passionate people of the Rewild Portland community. Many Rewild kids have learned fire and knife skills around The MudHut fire pit and know Ivy as the Echoes in Time kids' camp coordinator. Ivy loves the creativity, curiosity, and wildness of young people and is dedicated to the work of building healthy intergenerational communities connected to and through the natural world.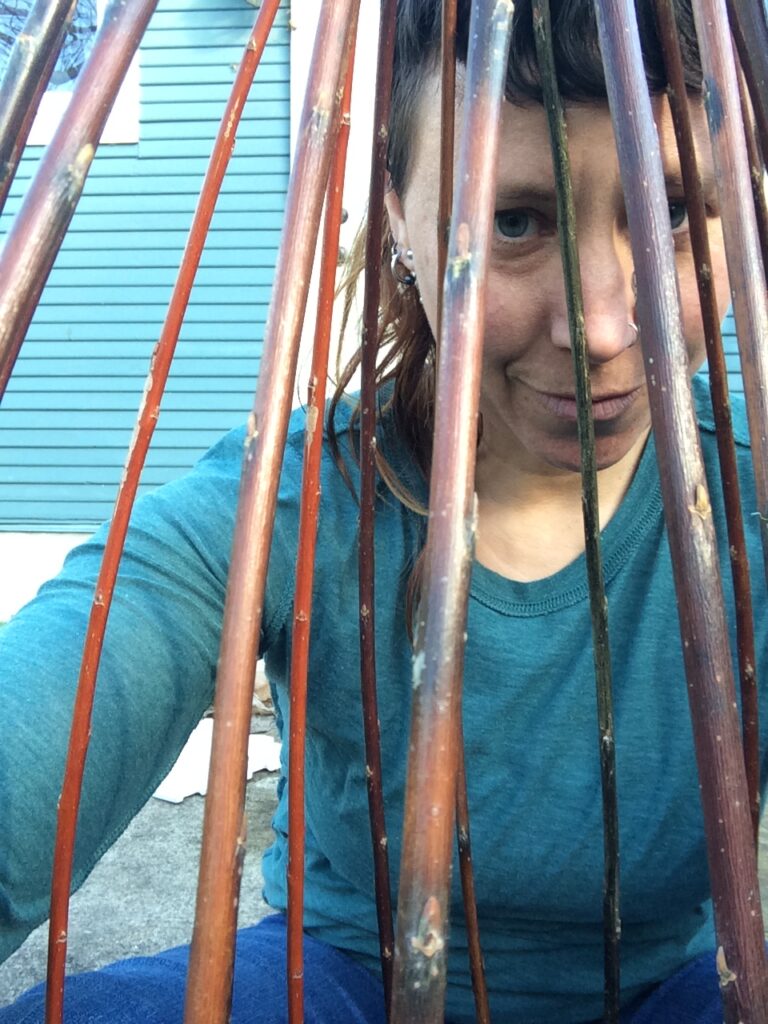 Rose Covert
Rose Covert is a constant maker and an artist who creates in many directions. Her paintings, sculptures, and woven works have been displayed throughout the Pacific Northwest. Most recently Rose has been engaged in woven sculptural work made of plants growing within a 30-mile radius of where she lives. She makes these very intricate and wild shapes by weaving one stick at a time, thus creating pathways to follow and build upon. As a member of the Columbia Basin Basketry Guild and a childhood educator, Rose moves seamlessly between student and teacher, learning from the materials, the process, and the people she works with. As a teacher Rose is drawn to engagement and embodiment, beginning by exploring the mediums and materials we'll be working with, then using our senses and intuition to get a feel for what we'll be making. Her teaching style has an emphasis on the magic and play of making, using questions and conversation as a way to encourage connection and imagination.
---
Fill out the form below to register for this program for the 2022-2023 year. Email info@rewildportland.com to inquire about scholarships!
---
Rewild Portland is a 501 (c) 3 nonprofit dedicated to sharing earth-based arts, traditions, and technologies with a wide range of residents in the Portland Metro area. We understand that even though we work hard to keep our program costs as low as possible, our programs still may not be accessible to everyone. This year we are able to offer a limited number of scholarships for the Coming-of-Age Girls Program.
Please fill out this application to register:
Coming-of-Age Girls Program Application