Annual Silent Auction
Friday, November 11th, 2022 • 6:00 pm–9:00 pm (auction closes at 8:30 pm, winners must be present)
Masks optional
$10 suggested donation, no one turned away

Green Anchors
8940 N Bradford St, Portland, OR 97203
---
The Rewild Portland Silent Auction is our biggest fundraiser of the year. Enjoy a fun night out, find amazing deals on phenomenal auction items, and support our cause in the process! All proceeds support Rewild Portland programs and help get more folks of all ages and walks of life outdoors, using their hands, and connecting more deeply with place, self, and community.
Event Activities
As you arrive, help yourself to light snacks and refreshments, and enjoy the evening's events.
Silent Auction (6 pm–8:30 pm)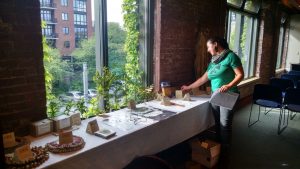 Hands down, our silent auction is the best shopping opportunity in town. Find amazing deals on amazing items while simultaneously helping fund programs like Rewild Portland's Free Skills Series. Auction items run the gamut from items like handcrafted tools to native plants and seeds, massages and spa services, wildcrafted herbal tinctures, locally made chocolates, freshly roasted coffee beans, Portland-made spirits, children's games and toys, Oregon field guides, handmade jewelry and art, theater tickets, and more! Many auction items are one-of-a-kind and locally made. Stay tuned for our expanding list of donors below. And don't forget to bring a credit card or checkbook—all winnings must be paid for at the end of the event.
Ancestral Skills Demos (ongoing)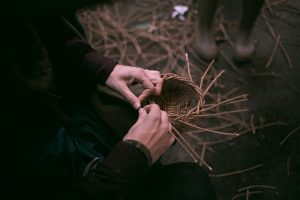 Throughout the evening, volunteers will demonstrate some of the skills that we teach in our classes, such as basket weaving and stone tool making.
---
Auction Items & Support
Thank you to the individuals and businesses who are generously donating items for our silent auction—we are so grateful for your support! We couldn't do what we do at Rewild Portland without their generosity. If you would like to make a donation to this year's auction, please contact us at info@rewildportland.com, and thank you!
About Rewild Portland
Rewild Portland is a 501(c)(3) nonprofit. Our mission is to create cultural and environmental resilience through the education of earth-based arts, technology, and traditions. This mission comes to life in the form of educational workshops and programs, community-building events, and ecological restoration. We offer a range of programs, from free monthly classes and community-building events to children's summer camps and adult workshops. We are supported through fundraising events, individual donations, and program fees. Because we are a nonprofit, we keep our program fees low and offer free classes once a month. [Learn More]