[scrollGallery id=30]
Over the last decade, animal tracking in North America has exploded with CyberTracker Evaluation and Certification. Before the evaluations began in North America, there was no way of knowing who was an experienced tracker and who wasn't. We now have a system in place that certifies people based on their level of experience and knowledge in the field. This certification process is becoming a requirement for anyone seeking credibility as a tracker. Especially for those who work in the realm of wildlife conservation.
This is a track and sign certification preparation course. This course does not guarantee certification, nor does the cost go towards taking the certification. The objective is to prepare people for a tracking evaluation through a one day a month class. Each class will guide people along in the methods of tracking that the certification program is geared towards. The classes will run Saturday mornings from 8am till noon. We require people to commit to coming to all seven of the classes, as missing one will greatly diminish the groups progress. We also want to emphasize that there will be a lot of tracking you will need to be doing between these weekend sessions. "Homework" so-to-speak.
Our tracker evaluation preparation course is not affiliated with CyberTracker, nor does our class guarantee passage of the evaluation. The class is taught by Trackers who hold at least a level 3 certification in track and sign. At the end of the seven months, we will discuss the possibility of organizing our own certification evaluation in the Portland area. These evaluations generally cost around $300 per person and must have a minimum attendance of 10.
Dates: This class is currently unavailable. Please join our mailing list for updates.
Tuition: $140 for 7 months.
FULL REGISTRATION CLOSED (See Below)
DROP-IN REGISTRATION
We are offering a limited number of drop-ins per class. Cost is $25 for a single Saturday. Spaces are limited. Please contact us if you would like to drop-in.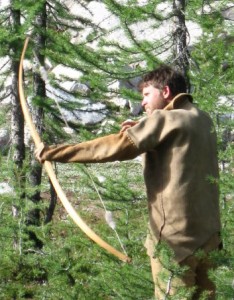 Instructor: Connor O'Malley
Born and raised in Fort Worth, Texas, Connor O'Malley has been passionately exploring nature and studying primitive skills since he was a teenager. He is a graduate of the Kamana Naturalist Training Program, White Pine's Tracking Apprenticeship program, Hawk Circle Earth Skills Semesters and attended Tom Brown jr.'s Tracker School and his camp for kids – Coyote Tracks, when he was a teenager.  He holds a degree in Natural Resources Management and Rangeland Ecology from Colorado State University. He is a certified Level 3 Track and Sign in Southern California and New England through Cybertracker Conservation. Connor is a Wilderness First Responder. He attended Lynx Vilden's 2012 Stone Age Project.
He has worked as the Assistant Director for Western Tracking Institute, a tracker/biologist for consulting projects, has published articles in the Bulletin of Primitive Technology and Backwoodsman Magazine, and has taught tracking classes and survival workshops. He is currently working as an instructor for the wilderness certification program at Alderleaf Wilderness College in Monroe, WA. When he's not looking for bears Connor is probably flint-knapping, playing guitar, or dreaming up a new primitive pursuit.