Rewilding Immersion Program
A Feral Living Experience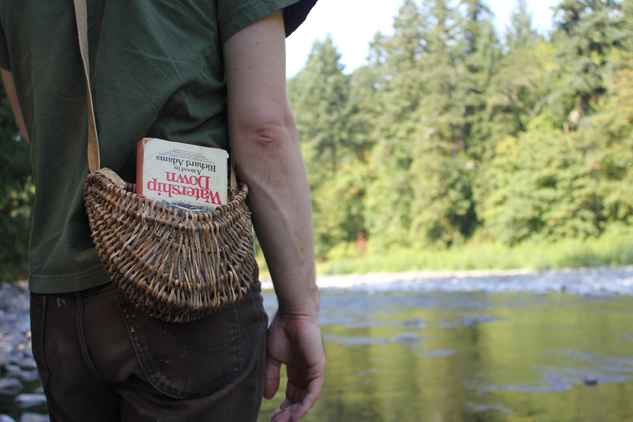 We are captives of a culture that is destroying the planet with its story, all while dehumanizing us. In order to break free, we must learn the ancient stories and reclaim our humanity. This is no easy task. The Rewilding Immersion Program is a humble attempt at making the next great leap in the rewilding renaissance: creating cultural ambassadors of rewilding. This program is decades in the making.
Do you want to deepen your connection to nature? Do you want to learn ancestral skills that will connect you to your ancestral past and make you more resilient? Do you want to learn the human role in ecology, and try your hand at it? Do you yearn to reclaim your humanity, reclaim your ecological role, with a group of like-minded people? This program may be for you.
Intact indigenous cultures raised confident, competent, children. These cultures relied on direct experience with their land bases for thousands of years, passed down through oral tradition. We are not an intact indigenous culture. We do not have thousands of years of experience in growing roots into the land. This program is a step in the direction. A cultural container for creating seeds of rewilding. We are not a culture.
This is an intensive program. Students live for 6 months on wild property, with instruction 3 days a week. This program teaches the 4 fundamentals of rewilding: philosophy, earth skills, community development, and regenerative land management.
---
Tuition: $5,000
When: April – September 2016
Where: Rural & wild property near Portland, OR.
---
Program Details
The Rewilding Immersion Program is a six month-long program that teaches the fundamentals of rewilding: philosophy, earth skills, community development, and regenerative land management.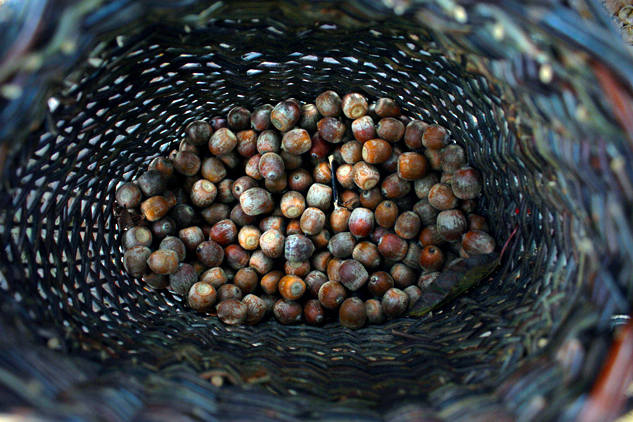 What do we mean by "rewilding"?
Rewilding is the opposite of domestication. It is a movement to return people, places, and our other-than-human neighbors to a more wild, or "self-willed," existence. This generally translates to living a lifestyle similar in function to the way our ancestors lived before the innovation of agriculture and more recently, industrialization.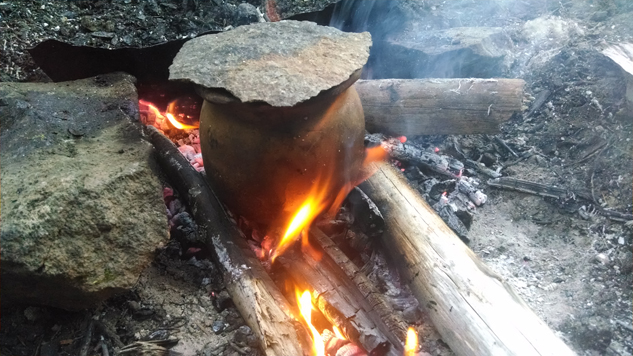 Why a "feral living" experience?
When a domesticated animal returns to the wild, we refer to them as "feral". No longer domestic, but changed by their domestication. Eventually feral animals will once again become "wild" as they evolve through time. While our aim is to live wild, we recognize that this will happen in time, through generations of rewilding.
The world is not the same place that it was thousands of years ago when all humans lived as hunter-gatherers. There is a culture of occupation that prevents us from all abandoning civilization entirely. It would be a mistake to pretend as though industrial civilization doesn't affect all of us. We live in both worlds. We are not pretending, not re-enacting the past. Where others see hypocrisy, we see a bridge.
Program Goals
Internalize the Lens of Rewilding
Improve your health (

Post Article links for Nature Connection/Mental Health

)
Being in nature calms the nerves. This lessens tension and inflammation in the body. This leads to greater physical and mental health. Ancestral diets are based in organic, wild, and unprocessed foods. These also lead to better mind and body health. Being outdoors, moving around, hiking, climbing, squatting, are all things we need to do. We will not be sitting in front of a computer, or sitting in chairs all day.
Connect and Improve your ecosystem
"Tending the wild" is an important role of any plant or animal. Aside from sitting in nature and feeling connected emotionally or sensually, we will connect through interaction. Weeding invasive species, planting back natives, and learning to eat and maintain them both at the same time.
Acquire Handi-craft Skills
Hand crafts are perhaps one of the most human things. We make tools. Not just sticks and stones.
Learn to live with other people
Communication is key. We have evolved as socially organized animals. Just as bees have a hive, birds have a flock, and wolves have a pack, humans have a tribe. Socialization within civilization is more of a culture of bullying and judging. In a hierarchy, those who have sociopathic tendencies climb to the top easier than those who are more empathetic. Within non-hierarchical cultures, the opposite is true. This is how we are biologically inclined, but through schooling and economics, we are trained to care less about what other people think. Learning to live with others in the most important and most overlooked skill.
Disclaimer:
This program is a temporary, artificial "culture." It is not the real deal, but a playground. One that arises and disappears, made of fleeting contact between students, and rooted in the monetary economy. When you graduate, you leave and go off into the world. For this reason, we think of our program as an incubator for people to become seeds for a culture of rewilding, the culture that will grow out of the collapsing industrial civilization. This program will not bolster your resume. You will not learn skills that will make you a productive member of civilization. It is not a financial investment, but more akin to throwing your money away, or trading your money for an old used car that you have no time to actually fix up. This is training for a world that does not exist, but one that we want to exist. What will you do after the program? How will you use the skills you have learned? That is for the gods to decide. You have been warned.
---
Curriculum
Living in a community, working together, teaching each other, etc. Our curriculum is meant to be well-rounded in the fundamentals of rewilding. The program is not meant to create mastery of one thing, but rather, to enrich each person with the mosaic of rewilding.
The Humanities
This course covers the philosophical, ecological, anthropological and psychological principles of rewilding. You will learn the history of civilization, the ills of agriculture and the benefits of indigenous horticulture, and how to structure a new mythology. You will learn to articulate the invisible hierarchy and understand how to free yourself from its shackles. You will begin to understand the mental trauma and psychosis inflicted on us everyday and how to overcome them through grief, praise, ritual and ceremony­.
Naturalist Skills & Nature Awareness
Sit spot, tracking, journaling, story telling, library, mentors
Ancestral Skills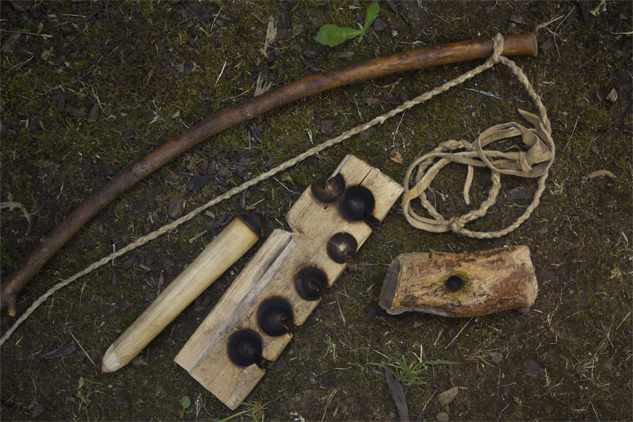 We teach Earth Skills from a rewilding perspective. You can learn wilderness survival skills in the U.S. Army, tracking with the U.S. Border Patrol, and you can put your knowledge of ethnobotany to work for Monsanto, but we all know we would not call any of these people rewilders. This class will give you the framework with which these skills become an asset to rewilding. (Echoes in Time)
Community Development
People are social creatures, but our socialization in this culture isn't necessarily conducive to working in a team. We focus on team building skills, conflict resolution, and group process, as a central principle to rewilding. It is perhaps the most important element of all of them.
Land-Tending: Foraging, Gathering, Hunting, Trapping, and Horticulture (And Permaculture)
Hunter-gatherers were largely manipulating the land in favor of biodiversity and food production; they just did this in a way that looked invisible to agriculturalists. We now understand these methods through research and experimentation. To really live as a hunter-gatherer, you must know how to tend the wild. Our program teaches the fundamentals of tending the wild, going beyond more urbanized concepts like permaculture. During our program we will be hunting, trapping and fishing for a lot of our food. All students must have appropriate licensing for the State of Oregon.
Cohesion
The program culminates with a month-long, hunter-gatherer project. We will head out with our gear, our knowledge and sense of place and our friends to enjoy nature and live as wild as we possibly can.
---
Instructors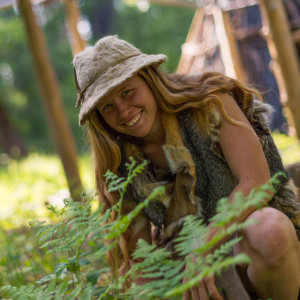 Jennifer Breese, Program Lead
Jennifer always wanted to be a wolf when she grew up, but is now happy to be a feral human. She was born and raised in San Francisco, CA. She spent most of her childhood drawing and painting nature, built a forest in her high school's hallway to showcase her senior art show, and wore an antler headdress at her graduation. She received her bachelor's degree from New College in Culture, Ecology and Sustainable Community, where she learned about the history of civilization and came to recognize patterns of extractive exponential growth leading to cultural and ecological collapse. Seeking some hope for the future, she went on to study tracking and nature awareness with Jon Young through the Regenerative Design Institute, where she learned that human nature is far more creative than she'd been taught in school, and became inspired to re-learn her role in the biosphere as a keystone species. She has attended Lynx Vilden's Living Wild Stone-Age project, where she lived under a tarp in the foothills of the eastern Cascades for six months and then lived stone-age in the mountains for one month. She has worked as a nature educator and ancestral skills artist for eight years, with organizations such as the Riekes Center, Tender Tracks, the Regenerative Design Institute, Weaving Earth, and the Buckeye Gathering. She has served as lead staff for seven Art of Mentoring workshops and four Bird Language Intensives.
---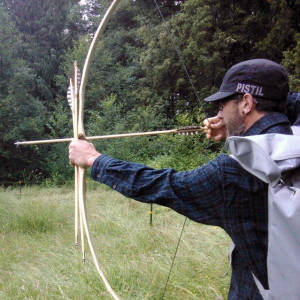 Tony Deland, Skills Specialist
Tony is a bowyer, ancestral skills instructor, and practitioner. Tony has a Masters in Art Education and served as a Peace Corps Volunteer (Kenya, 2005-2007). While in Kenya he began to learn many of the ancestral skills in real world practice, and was part of building a mud brick and cob home as well as learning the traditional way of making ceramic cooking pots. Through that experience he has been extremely passionate about traditional and ancestral skills ever since. He has been an instructor at the Buckeye Gathering in California and at The Sharpening Stone in southern Oregon. He has also taught at Trackers Northwest as their lead instructor for adult and teen programs. His experience as an Art teacher helps him to simplify these skills and make them accessible to people who may not have any experience with them. Check out his personal webpage here: http://www.primitiveartsandcrafts.com
---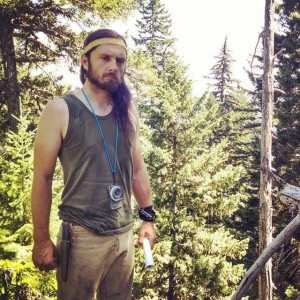 Peter Michael Bauer, Humanities Specialist, Basketry Instructors
Peter is the Executive Director of Rewild Portland. A fourth generation Portlander, his first merit badge in the Boy Scouts was basketry. From there he went on to receive his Eagle Scout rank. It was during his years camping during the scouts that he began to yearn for a deeper connection to place. At sixteen he traveled across the United States to attend Tom Brown Jr.'s Tracker School and Wilderness Awareness School in Washington state, where he attended several Art of Mentoring workshops. He has worked as an environmental educator for nearly every environmental education organization in Portland, including Cascadia Wild, Friends of Tryon Creek, Audubon, and Echoes in Time. He loves basketry, playing the banjo and is a fluent speaker of Chinuk Wawa (Chinook Jargon), the Native trade language of the Pacific Northwest and heritage language of the Confederated Tribes of Grand Ronde. He is the founder of www.rewild.com and the author of Rewild or Die (under the moniker "Urban Scout"). During the summer of 2012 he attended Lynx Vilden's Stone Age immersion program.
---
Students
Who are you? You are a curious person. You play well with others. You are super green when it comes to rewilding skills. Maybe you have a focus, but are looking to broaden your horizons.
---
Food & Lodging
You will need to provide your own tent, sleeping bag, ground cloth, etc.
We do not provide food. We have a communal kitchen for people to cook meals. Meals will be on a sign-up/trade off basis and cooked communally in the kitchen. Plan on carpooling into town for groceries and other amenities.
Class Schedule
Class will be three days a week. Some of the elements of class will need to be worked on during off hours, such as crafting. The four days off allows people to explore nature on their own terms and enjoy the wild spaces that we inhabit. If you need to work, this also provides the opportunity to have a part-time job nearby.
Student Limit: 15
We limit the number of students in order to maximize the program results. 15 is our current limit.
Technology Guidelines 
While we are not luddites, we ask that people keep their electronic devices stored away when on site in the wild, and/or during classes. This means cell phones, iPods, laptops, etc. We want to create an atmosphere of nature and not a human created one. Technology tends to pull people out of the present moment when in natural settings, and draw people back into the civilized world. Basically, it's distracting from what we are doing out there. These tools are often necessary for living in todays world, and we recognize the need to use them to stay connected. We will have a designated area for using electric devices like these. 
Social Conduct Policy
As human animals, disagreements and conflicts are natural and expected. For this reason, we have systems of de-escalating conflicts, and mediating conflicts when they arise. To minimize conflicts we ask everyone to read and sign our Social Conduct Policy. There are certain behaviors that are simply unacceptable. This policy outlines the behavior we expect from each individual. By signing the document, you agree to these basic social guidelines. Failure to follow these can lead to expulsion from the program.
Age Policy
Students must be 18 years of age, or accompanied by an adult guardian who is also in the program.
---
2016 Registration: Open
Tuition: $5,000
Tuition covers: Rent, Supplies, Instruction.
Tuition does not cover: Food, Transportation.
Payment Options
All at once or Monthly Installments.
---
Contact Us
If you are interested in applying to the program, please contact us by filing out the form below.