Teen Afterschool Herbalism Program
February 8th through March 4th- For Teens Ages 13 & up

Teen Afterschool Herbalism Program:

Join Rewild Portland and Seed & Thistle Apothecary for another 6 week afterschool series of learning how to cultivate the wild with home + heart grown medicine and crafts. Participants will spend each week with one of the elements and plants associated with that.  Youth will learn medicinal properties and uses and how they can be allies to help us discover our own unique gifts to offer back to the earth and community. Tuition includes a journal, a healthy snack at each session, and the opportunity for young folks to connect more deeply to themselves and the plants that surround them.  Beginning Mondays, 
February 8th until March 4th
from
3:30-6:30pm
.  Ages 13 and up and all types of genders are welcome in this group!
Time & Location
Seed & Thistle Apothecary
6520 NE Wygant St
Portland, OR 97218
Six week series meets Mondays
February 8th – March 4th
3:30pm – 6:30pm
Ready to learn with us? Register with the cart link below to pay via Paypal
Want to pay with a check instead? Contact Sarah@rewildportland.com for alternative payment methods.
Limited Scholarships available, contact Sarah@rewildportland.com to learn more. 
---
Course Instructors
Lara Pacheco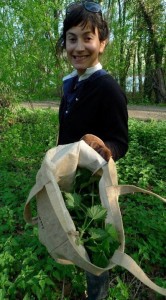 Lara is a clinical herbalist who founded Seed and Thistle Apothecary, which offers a monthly herbal subscription of seasonally based herbal preparations from plants she grows and ethically wildcrafts.  Within this model, she also offers consultations and customized options where individuals are matched with specific plant medicine to help support their health.  Lara is a Latina community organizer and teaches classes, builds gardens, and advocacy around women's health and access to alternative medicine for the underserved. Lara learned from the plants originally in the farm and field then pursued further studies in the Pacific Northwest with the School of Traditional Western Herbalism and worked with Scott Kloos for his one time offering of the Cascadia Folk Medicine Herbal Apprenticeship.
Kate Coulton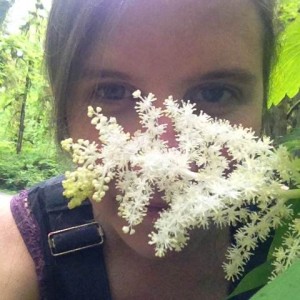 Kate first developed a passion for nature at a young age when she pondered the extreme efforts of people in her community to eradicate the dandelion. While studying Cultural Anthropology in Montana she became fascinated with traditional healing practices of the region and around the world. After traveling she decided to settle in the Pacific Northwest. Many great teachers and opportunities arrived including  a Permaculture design certification course,  the Elderberry School of Botanical Medicine and the School of Forest Medicine Immersion program. Kate currently works with Scott Kloos at Cascadia Folk Medicine. She has experience teaching people of all ages and particularly enjoys working with children and young adults. She believes
the natural world around us is a great ally in times of transition. Expressing  deepest gratitude
to the plants for their ancient wisdom,  healing abilities and their very existence as an individual
is essential to her practices.
---